Robotic Machining - Milling & Deburring | Robotic 3D Printing | Robotic Welding & Cutting
Robotic Machining - Milling & Deburring
Robotic Milling is the machining process of cutting materials like Metals-Aluminum, Wood, Plastics, EPS, High Density Foam / Thermocol, Wax, Polystyrene, Carbon Fiber etc. A KUKA Milling Robot KR-120 integrated with, 7.5 KW Milling Spindle, makes the production process more flexible to perform exact cuts and precise movements to produce the highest quality parts.
Precision Machined Components need to be deburred reliably and completely. Robotic Deburring Systems, KUKA KR-5 Robot integrated with high precision Schunk deburring tools, Automate this critical process for complex parts and components.
Robotic Milling & Deburring services are offered to MSME for providing opportunities to improve the quality of their parts and products.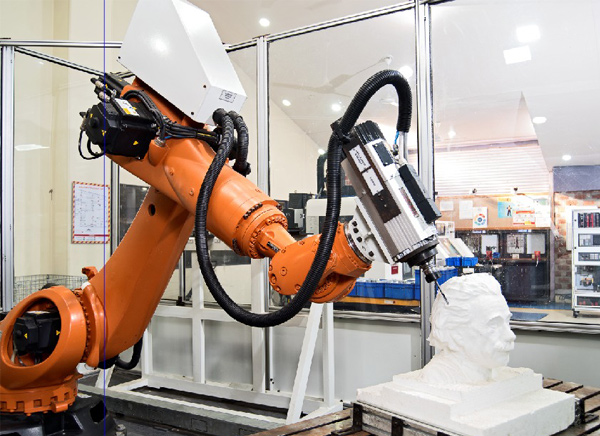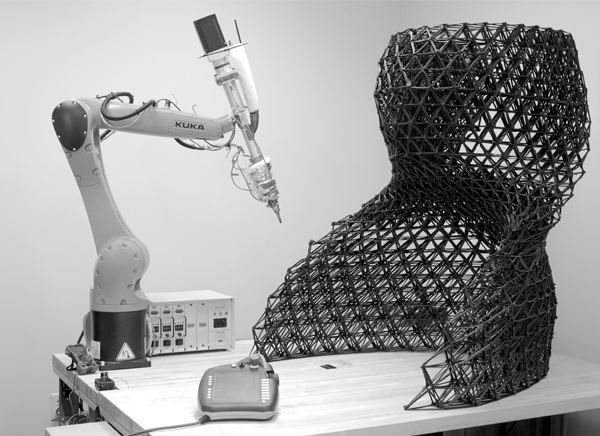 Robotic 3D Printing
Robotic 3D printing process is a powerful combination for unprecedented options in the design and production of precise, lightweight and inexpensive components from a wide range of different materials. Robotic 3D printing, using the FDM process, can be used, in particular, for the fast, precise and inexpensive production of work piece prototypes or small series. This service offered to Industry for developing large and complex parts/components in the shortest possible time to meet their requirement of Prototyping.
Robotic Welding & Cutting
Robotic welding is one of the most popular applications in industrial applications. It provides a fast, reliable and high quality form of welding for meeting various industrial requirements. Robotic welding facility at ASF offers:
Robotic Laser Welding & Cutting Operations for Complex Parts
Robotic Time Twin Welding Process for Heavy Welding Operations
Robotic CMT Welding Process for Thin Metal Sheets
Robotic Ultrasonic Welding Process for Plastics / Non-Woven Fabric.
Robotic TPSi MIG Welding Process for plates upto 12 mm thickness
Robotic Spot-Welding process for Sheet Metal Parts
We work with a variety of materials including stainless steel, carbon steel, aluminum and copper. Our capabilities include prototyping, contract manufacturing and short run-high frequency production. We can weld at a minimum thickness of 0.3 mm to unlimited with full rotational part sizes.